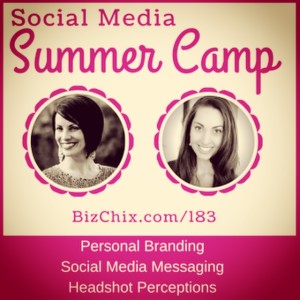 Social Media Summer Camp continues.
What is your personal brand online?
Do you have a mission statement?
How do you change your social media messaging across platforms?
What does your headshot say about you?
Former Biz Chix Podcast guests Melinda Yeaman (#112) and Vanessa Van Edwards (#101) answer these questions and more!
Inside this Episode
Resources mentioned on show
Shot List: 30 Ideas for the Perfect Photo Shoot
BizChix Episodes for Melinda and Vanessa
Connect with Melinda
Connect with Vanessa
Thank you so much for listening.  If you enjoyed the episode, please consider subscribing in iTunes  and Stitcher and leaving a rating and or review.  This helps us continue to be featured in New & Noteworthy so that more people can find us.
Click here to join the Biz Chix community (free) and get an invitation to our Private Facebook Group for Female Entrepreneurs
Thank you to our Sponsors: