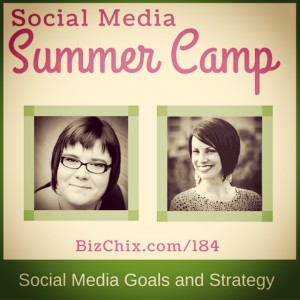 This is another episode in our social media summer camp series and today we're talking about social media strategy with former Biz Chix Podcast guests Sophie Bujold (#122) and Melinda Yeaman (#112).
Inside this Episode
Resources mentioned on show

Set your Business Goals FIRST and your Social Media Tactics SECOND
Set no more than three business goals for your social media campaign (more than that will be overwhelming)
Be S.M.A.R.T. in setting your business goals

Specific – what exactly you want to improve
Measurable – how you're going to measure it
Assignable – who will be accountable for making it happen
Realistic – keep the objective realistic considering time, resources and support
Time-related – when you expect to achieve your results
BizChix Episodes for Sophie and Melinda
Connect with Sophie
Connect with Melinda
Thank you so much for listening.  If you enjoyed the episode, please consider subscribing in iTunes  and Stitcher and leaving a rating and or review.  This helps us continue to be featured in New & Noteworthy so that more people can find us.
Click here to join the Biz Chix community (free) and get an invitation to our Private Facebook Group for Female Entrepreneurs
Thank you to our Sponsors: