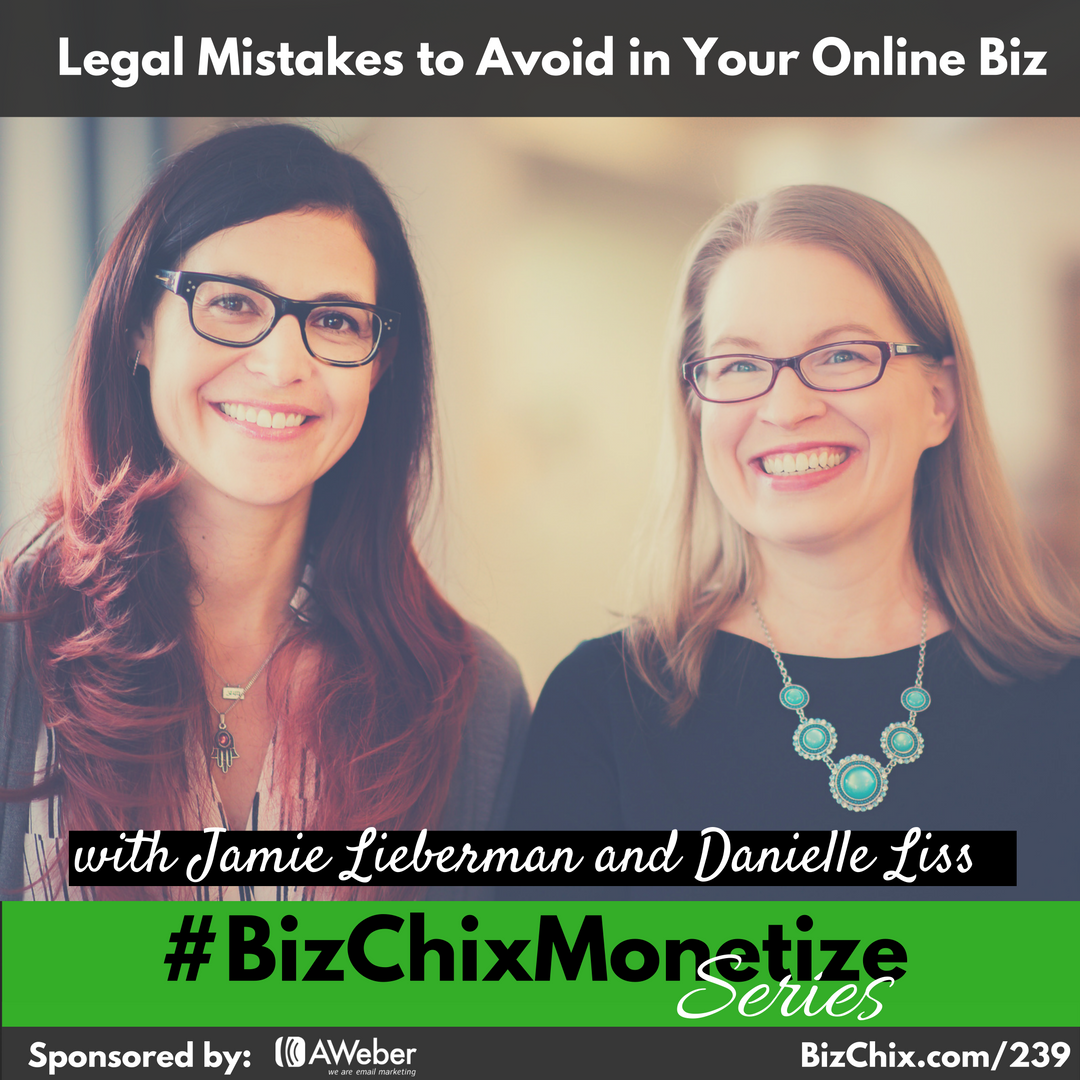 Hear Natalie chat with Jamie and Danielle from Hashtag Legal on four major legal mistakes to avoid in an online business. These impact anyone who has a website, collects emails, sells products and/or is an Amazon Affiliate.
This episode is sponsored by AWeber.  Thank you for supporting women entrepreneurs! Find out more and get an all access, 60 Day Free Trial at BizChix.com/Aweber!

Four Legal Mistakes to Avoid in Your Online Biz #BizChixMonetize
Key Takeaways:
[9:20] How should people choose a lawyer for their business.
[12:03] Natalie mentions how she hired Jamie and Danielle to help her with the Aweber sponsorship contract.
[13:55] Danielle lists the top four legal mistakes an online business makes and the different types of business entities to be aware of.
[19:40] Natalie asks about obtaining a LLC in other states.
[21:55] Danielle discusses the biggest issue business owners face in legal situations.
[31:09] Danielle and Jamie talk about how important a privacy policy is for a business website and what types of questions that need to be addressed.
[38:06] Danielle and Jamie can't stress enough about being proactive in protecting your business.
[46:12] How to connect with Danielle and Jaime
[48:30] Natalie's final thoughts.
[53:03] Special message from Tahoe (Natalie's 4 year old son).
Connect with Jamie and Danielle
Mentioned in this Episode:
Hear the entire #BizChixMonetize series.
Let's Work Together! Join me in a 90 Minute Strategy Session.