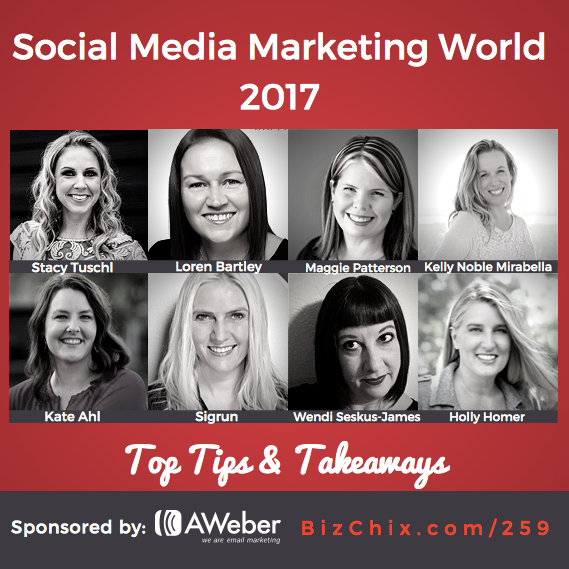 This time last week I was at Social Media Marketing World 2017 (SMMW17) where I lead a panel that featured Chalene Johnson, Amy Porterfield and Mike Morrison where we discussed how a podcast can be used as a marketing tool for your business.
This is the largest Social Media Conference in the world and included 3,000 attendees and over 100 speakers.
 I had the pleasure to speak with eight fabulous ladies (Stacy Tuschle, Loren Bartley, Kate Ahl, Sigrun, Maggie Patterson, Wendi Seska-James, Kelly Noble Mirabella, and Holly Homer) and get their top tips and takeaways from the conference.
This episode is sponsored by AWeber.  Thank you for supporting women entrepreneurs! Find out more and get an all access, 60 Day Free Trial at BizChix.com/Aweber!

Social Media Marketing World 2017 Takeaways
Key Takeaways:
[3:40] Stacy talks about the importance of Facebook Live posts and Facebook ads
[6:30] Natalie chats about her takeaway on videos
[7:45] Loren reveals amazing tools to enhance videos
[11:08] Kate was reminded about the power of authenticity
[12:50] Sigrun shares the value of consistency
[15:50] Maggie talks about being unique and focusing on a targeted audience
[19:20] Wendi discusses changes in Facebook organic reach and her immediate results
[23:00] Kelly is amazed by AI and chatbots for Facebook messaging and the future impact
[28:33] Holly shares how customer experience in the first 100 days can be a game changer
[30:58] Natalie includes some behind the scenes of leading a panel at the conference
Connect with other Female Entrepreneurs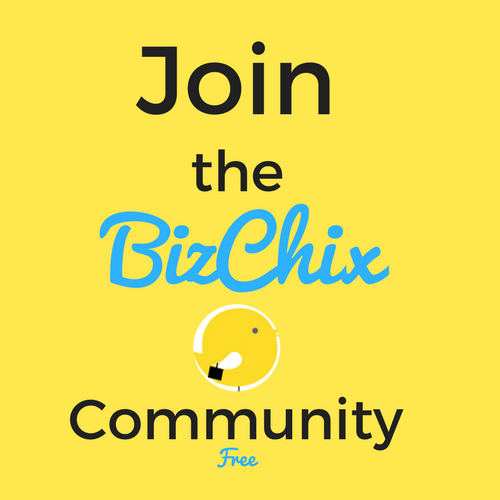 Featured Guests:
Stacy Tuschle
Website: She's Building Her Empire
Special Offer: Free training – 7 ways to go from overlooked to overbooked with high paying clients.
Check out her FB Group: http://facebook.com/groups/shesbuildingherempire
Podcast: She's Building Her Empire
Loren Bartley
Website: Impactiv 8 and Business Addicts
Special Offer: Loren has developed a resource called "Facebook Live Broadcast: The Ultimate Guide For Businesses" to assist you in creating quality Facebook live broadcasts for your business.
Check out her FB Group
Podcast: #BusinessAddicts
Kate Ahl
Website: Simple Pin Media
Special Offer: Just launched the Simple Pin Workshops. Now through April 11th enroll in the Simple Pin Workshops to receive target hands-on Pinterest marketing training. Use Pinterest to boost your business without all the confusion.
Check out her FB Group
Podcast: Simple Pin Media
Sigrun
Website: Sigrun
Special Offer: I do Mastermind Retreats in Iceland and Switzerland and people were always asking me how I plan, launch, sell out and run these retreats so I created a Mastermind Retreat Checklist that is available for free.
Check out her Instagram.
Maggie Patterson
Website: Scoop Industries
Special Offer: Running an online business can be hard. But finding and booking clients just got easier with the Book Out Your Services Business Guide. (Bonus: These are things you can do without an email list or a fancy pants website.)
Check out her Instagram.
Podcast: Service Business Success
Kelly Noble Mirabella
Website: Stellar Media Marketing
Check out her Facebook.
Holly Homer
Website: Holly Homer and Kids Activities Blog
Check out her Facebook.
Episodes Mentioned:
Video Tools Mentioned:
Lumyer
Switcher Studio
Animation by Wave
BeLive.tv
Want to work 1/1 with Natalie or join one of her masterminds? Click to Learn More.