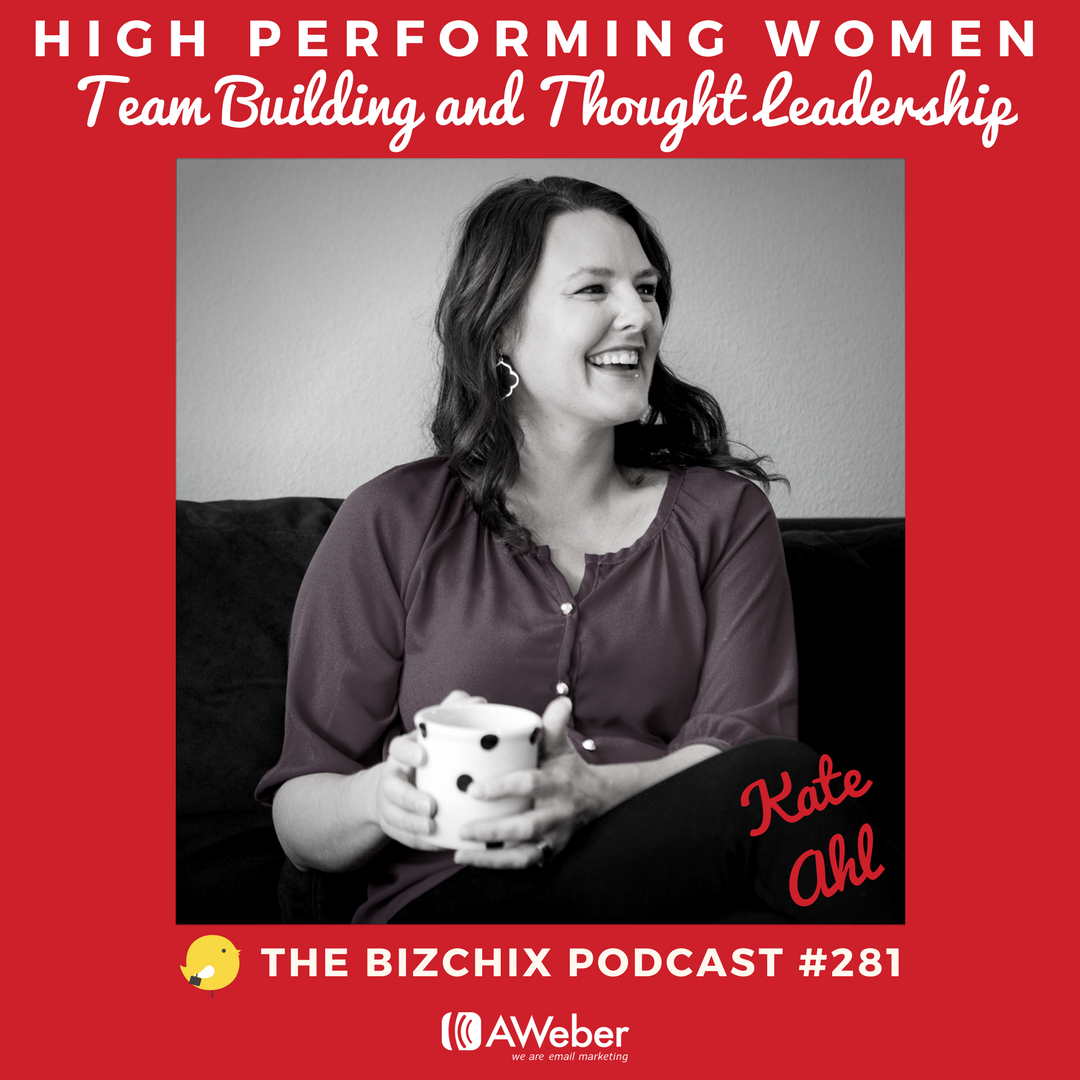 What is the best way to train a team? How do you build a business that is scalable and operates without you? My guest, Kate Ahl, of Simple Pin Media, shares how she has scaled her Pinterest management agency to a team of 29, serving 80 clients in just 3.5 years.
Kate shares her methods for training her team, how she has built a scalable business that can mostly operate without her, and why it's so important to ask questions first, rather than making assumptions. Kate also talks about being a thought leader in her industry, and some of the mindset obstacles she has overcome to step into that role.
Key Takeaways:
[1:09] Join the Biz Chix Community to get exclusive access to the carefully curated Biz Chix Facebook group, and special email communication from Natalie!
[2:24] Here's a quick email marketing tip from Rebecca of AWeber — use interactive emails to engage subscribers and increase click-through rates.
[3:58] Natalie introduces her guest for this episode — Kate Ahl of Simple Pin Media.
[5:48] Where did Kate grow up, and what was she like as a little girl?
[8:21] What is Kate's family unit like now?
[11:10] What is Kate's business? Where is it now?
[17:32] What is the structure of Kate's organization?
[20:15] How did Kate get started in the business?
[29:55] Kate shares some pointers about when it's time to hire someone for your organization.
[33:40] Kate takes us through a hypothetical situation of dealing with a difficult situation.
[37:08] Sign up for the Biz Chix Live event at the website!
[39:06] Kate talks about her role as a trainer.
[44:10] What was Kate's inspiration for creating her particular structure in the organization?
[51:45] Kate's genius idea for prioritizing those on her waitlist for clients.
[56:37] How does Kate feel about stepping into the role of a thought leader in this industry?
[1:06:43] Natalie sums up this episode with Kate, and her key takeaways from their conversation.
This episode is sponsored by AWeber. Thank you for supporting women entrepreneurs! Find out more and get an all access, 60 Day Free Trial at BizChix.com/Aweber!

Connect with Other Female Entrepreneurs

Connect with Kate:
 Mentioned in this Episode:

SaveSave
SaveSave
SaveSave
SaveSave
SaveSaveSaveSave
SaveSave
SaveSave
SaveSave
SaveSave
SaveSave
SaveSave
SaveSave
SaveSaveSaveSave