Nicole Johnson is Founder, President, and Lead Sleep Consultant of The Baby Sleep Site®, an online company devoted to helping parents of sleepless babies and toddlers solve their children's sleep issues. The company was borne out of Johnson's own experiences as a sleep-deprived mother of two. After spending countless hours researching baby sleep, Johnson was able to solve her sons' sleep issues, and in 2006, she begin sharing her wisdom and experience with other exhausted parents on an internet message board before creating The Baby Sleep Site® in 2008. What began as a small side-business has blossomed over the past 6 into a full-fledged telecommute company. Today, The Baby Sleep Site® employs 12 sleep consultants, 3 customer service reps, and 2 administrators (all remotely). The website itself has become the internet's leading authority on baby and toddler sleep, and currently enjoys over 500,000 unique visitors and over one million page views each month.
Johnson, her husband, and their two boys currently reside in Columbus, OH. With a B.A. degree from UC Berkeley and an MBA from Ohio State University, Nicole is an expert on infant and toddler sleep and has a team of sleep consultants with a wealth of professional experience in child/infant development, behavioral health, and medical/nursing. The Baby Sleep Site team has made it their mission to help other parents solve their child's sleep problems.
Inside This Episode
>Motivational Quote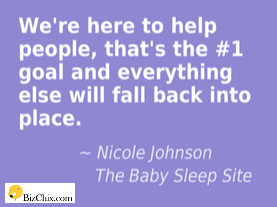 >Must Read Book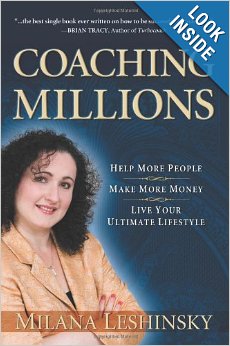 >Productivity Tool
Basecamp (project management software, online collaboration)
>Other Resources Mentioned
Chatter  – enterprise social network that allows teams to sync up and take action
>Connect with Nicole
Thank you so much for listening.  If you enjoyed the episode, please consider subscribing in iTunes  and Stitcher and leaving a rating and or review.  This helps us continue to be featured in New & Noteworthy so that more people can find us.