Social Media Summer Camp Mastermind [starts tomorrow!]
Launches Tuesday, July 7th, 10AM pst/1PM est
6 Weeks
$197
[each session is recorded so you can watch at your leisure if you can't join us live]
Are you ready to take your social media platforms to the next level?  
Join me for Summer Camp!
It's meant to be fun like Summer Camp when we were kids.
Just like camp years ago, you'll walk away learning something and make some amazing friends.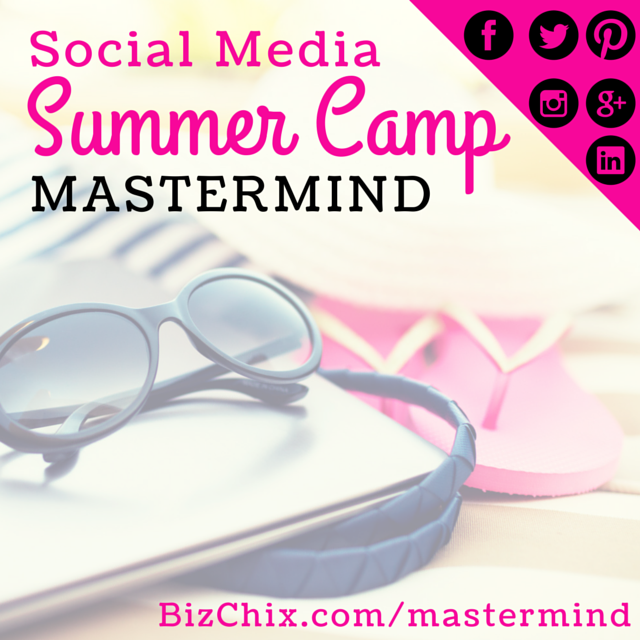 This is for women that are intimidated or confused by one or more social media platforms.
If you are intermediate or advanced in one platform, but want to uplevel your game in a few others. Please join in.  You will be an invaluable resource to your group members.  That is the benefit of masterminds. We can share in the group wisdom.
You will gain the community of "co-workers" and peers you long to interact with and the group will help you stay focused and master Facebook, Twitter, Pinterest, Instagram, Linked In and Google+!
Are you ready to?
Improve your social media presence
Connect with like-minded women
Propel each others' business
Provide and get accountability each week
Have a place to be the real you
Help promote each other online
How will we meet?
Weekly Google hangout (60 minutes)
Private Facebook (for mastermind only)
What's the bottom line?
6 week commitment
Starts July 7th, 2015
Meets weekly
Each session recorded
Tuesdays, 10AM pst/ 1PM est
Total cost: $197
Questions?
Why is this a paid versus a free mastermind?
I am participating as a facilitator and coach. The cost helps cover my time to organize and facilitate the group.
Also, when we pay money to be part of something it takes the quality of the interactions to a new level and encourages a deeper commitment.
What can I expect?
Each week we will connect in a 60 minute Google Hangout and daily via our private Facebook group. The goal is to create a safe space where you can be real about your business struggles especially around social media, celebrate each others wins and challenge each other when we slow down or miss goals we have set. Each week, we will tackle a different social media platform.
Do you offer Private Coaching?
Yes! I offer podcast coaching and business coaching/consulting to a limited number of clients. If you are interested in seeing if my style is a fit with you and to get more details email me nat at bizchix dot com.
Once your application is reviewed you will receive an email with further instructions, including how to pay.