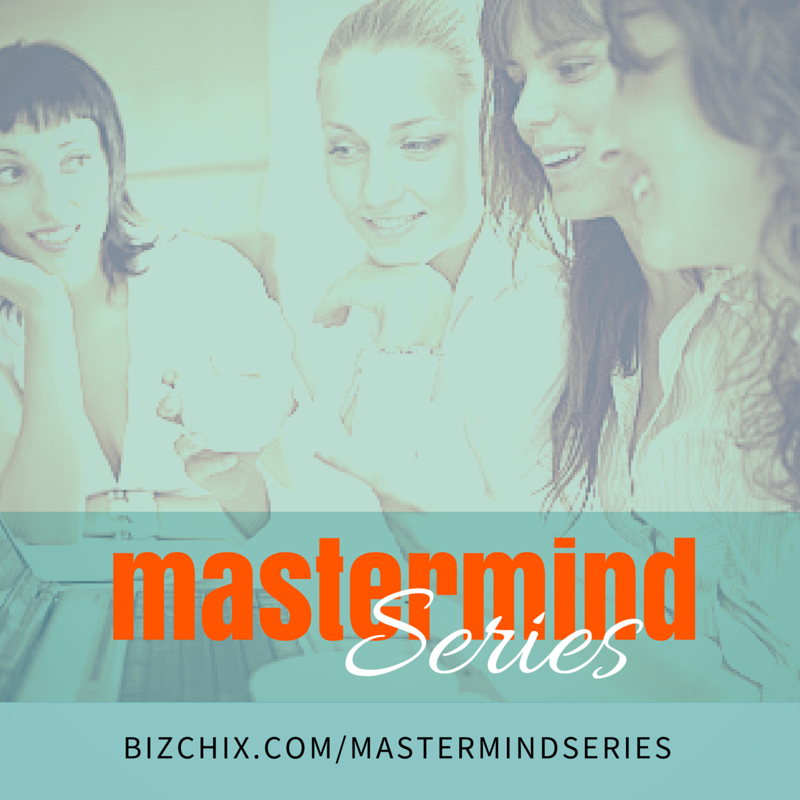 As I have thought about Masterminding, the connection between masterminds and networking is obvious. To form a mastermind you usually draw on the network you currently have. Being in a mastermind expands your own personal network as you gain access to the network of those in your group.
A mastermind functioning on its highest level becomes a successful and powerful Team that is greater than the sum of it's parts. As I thought about a mastermind being a successful team, my MBA education came into play. A big part of my education involved working in teams, studying successful teams and I even took an entire masters level course called Teams. There is a lot of research on what makes a successful team and what can lead to an unsuccessful team. I look forward to sharing some of that research with you during this series. I also have personally found there is a bit of an art to creating community and a mastermind is a small community so we will touch on that too.
Get our Free Guide to Start Your Mastermind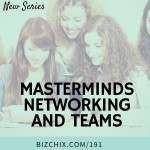 Throughout this series I'm going to share how I connected with each of my mastermind members and why I thought we would be a good fit for each other. As you get to know them, you might see how they are a match for me and in turn think of who might be a match for you. Not all masterminds are successful or meant to be long term. We will dig into that as well. I'm also going to talk about paid and unpaid masterminds as the women I am introducing you to are part of my peer mastermind which is not paid, but I also offer paid masterminds to my community.  Both have their merits. If you have a platform, then a paid mastermind could be a potential opportunity for you.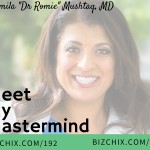 I can't wait for you to hear episode 193 which Dr. Romie and I recorded via a live video broadcast on Blab a new video streaming platform. Audience members were able to join in during the chat and we interact with them during the show.  There were some fun surprises in this episode. Dr. Romie shared how she helps clients and audiences she speaks to set intentions for their life. She not only does this with herself, but gets me to publicly share one of my secret desires for my business.  Yikes. It was scary but fun and the best thing of all, not at all planned.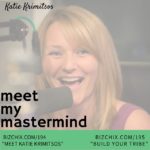 Many people are surprised that Katie and I are in a mastermind together because our podcasts and brands seem very similar. In this episode, we talk about why we mastermind with someone who might be a "competitor". Also, we share what we thought of each other when we first launched our shows around the same time in early 2014. Let's just say we weren't thrilled each other had the same idea at the same time!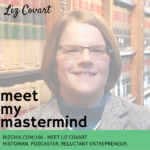 Liz Covart is a professional historian and host of the wildly successful podcast Ben Franklin's World. And I am not boasting about that, Liz gets triple the downloads that my show gets. She is a rockstar! Liz holds a Ph.D. in history from the University of California, Davis, where she studied with 2-time Pulitzer Prize-winning historian Alan Taylor. Liz is a history lover and an historian of early America. She started her podcast to connect fellow history lovers with the work of professional historians. Liz believe that history is the key to understanding who we are and how we can affect a better future.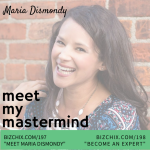 Maria shares how Grassroots Marketing, Authentic Video and Outsourcing are the keys to the success of her business. I really like how Maria mentioned how important the collaborative nature of our group is and how it has helped achieve goals that seemed out of reach and to take more risks than she would on her own.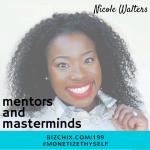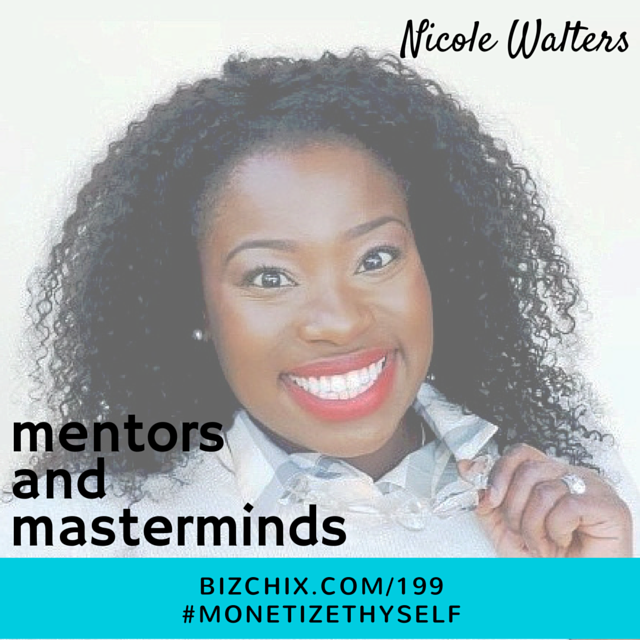 Nicole Walters is a Baltimore, MD transplant and Washington, D.C. native. She moved to the Baltimore area, while attending The Johns Hopkins University as a Political Science major- and soon after entered the corporate world of Business Development and Marketing. Nicole has worked as a client facing, business executive for Fortune 500 companies, in both sales and marketing for over 10 years. In her previous role with an S&P international healthcare organization, she managed business relationships with multibillion dollar corporations and independently facilitated pitching, prospecting, and client relationship management in the Mid-Atlantic and Southeastern United States.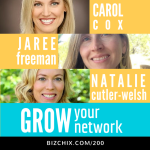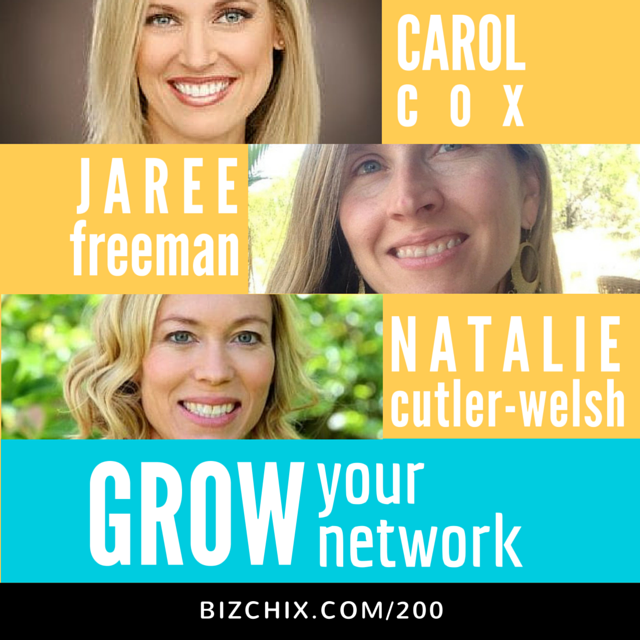 Grow Your Network with Carol Cox, Jaree Freeman and Natalie Cutler-Welsh. Based on her 15 years of business, marketing, and teaching experience, Carol Cox created Speaking Your Brand to help entrepreneurs become the confident, public voice of their brand and to learn how to find, create, and deliver their signature talk to share their vision and grow their business. Jaree Freeman is a Wife, Mom, Big Dog Owner, Water Lover & Traveler. She is a serial Entrepreneur, Connector and the CEO/Founder of Connect EPIC. She can help CONNECT you with amazing Opportunities, Solutions and People. Natalie Cutler-Welsh is an Author, Speaker, Podcaster, Social Media coach and 'Impact Entrepreneur' but it wasn't always that way… She's always wanted to 'make a difference' but only lately did she really 'get' that she can't do it on my own.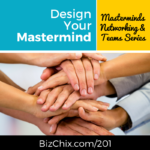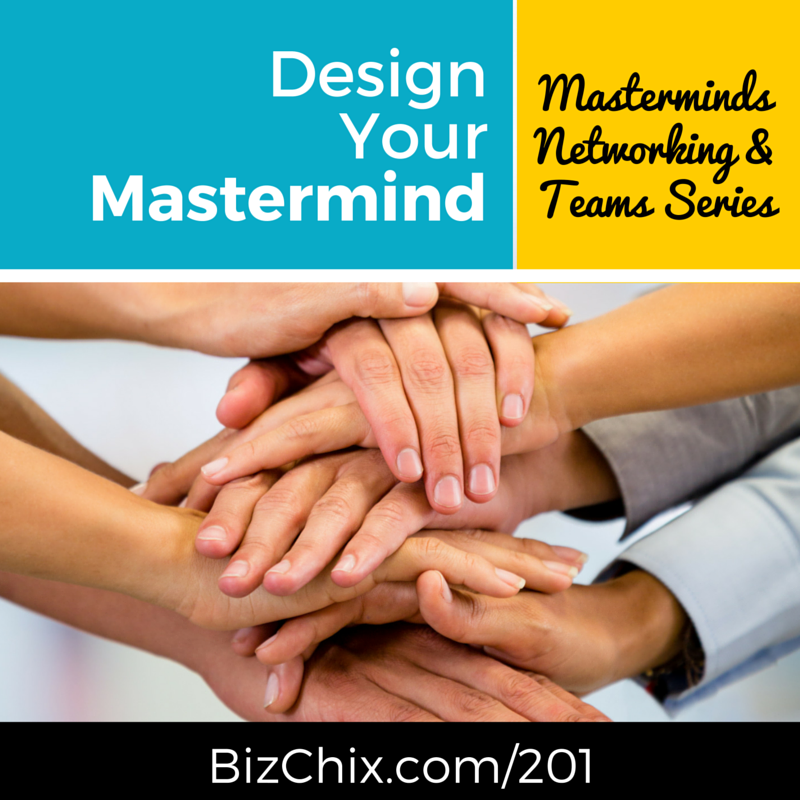 So many women in The Biz Chix Community want to be in a mastermind, but don't know where to start. This episode goes through not only the steps to take but also the thought process and the strategies involved in creating a successful group from the beginning.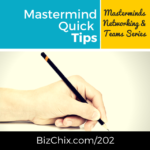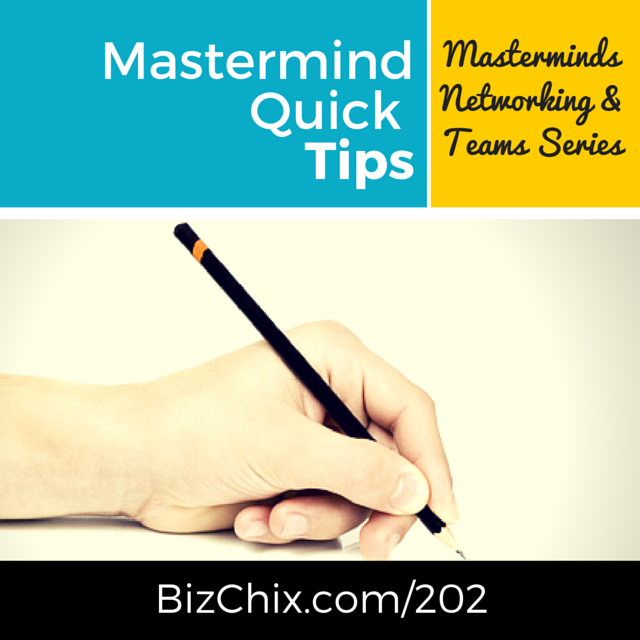 We're wrapping up our series on Masterminds, Networking and Teams with some quick tips and final thoughts on masterminds. Don't miss our Top 10 (final) Tips on Masterminds!
Get our Free Guide to Start Your Mastermind
MASTERMIND POWER SESSION
If you are interested in launching your own Mastermind (paid or unpaid) and could use some help thinking this all through I have opened up a few blocks of time for a Mastermind Power Session.
These are one hour laser focused sessions where we will cover everything you need to launch your own paid mastermind, including a boost in your confidence and a huge dose of encouragement to get started right away.
I'm also facilitating paid masterminds in the new year so if that interests you, make sure you are getting my emails. Just text bizchix to 33444 or  click on the yellow join the community button on this page.
Thank you so much for listening.  If you enjoyed the episode, please subscribe in iTunes and leave a rating and or review.  This helps the show rank higher in iTunes search results!
Click here to join the Biz Chix community (free) and get an invitation to our Private Facebook Group for Female Entrepreneurs
Thank you to our Sponsor: