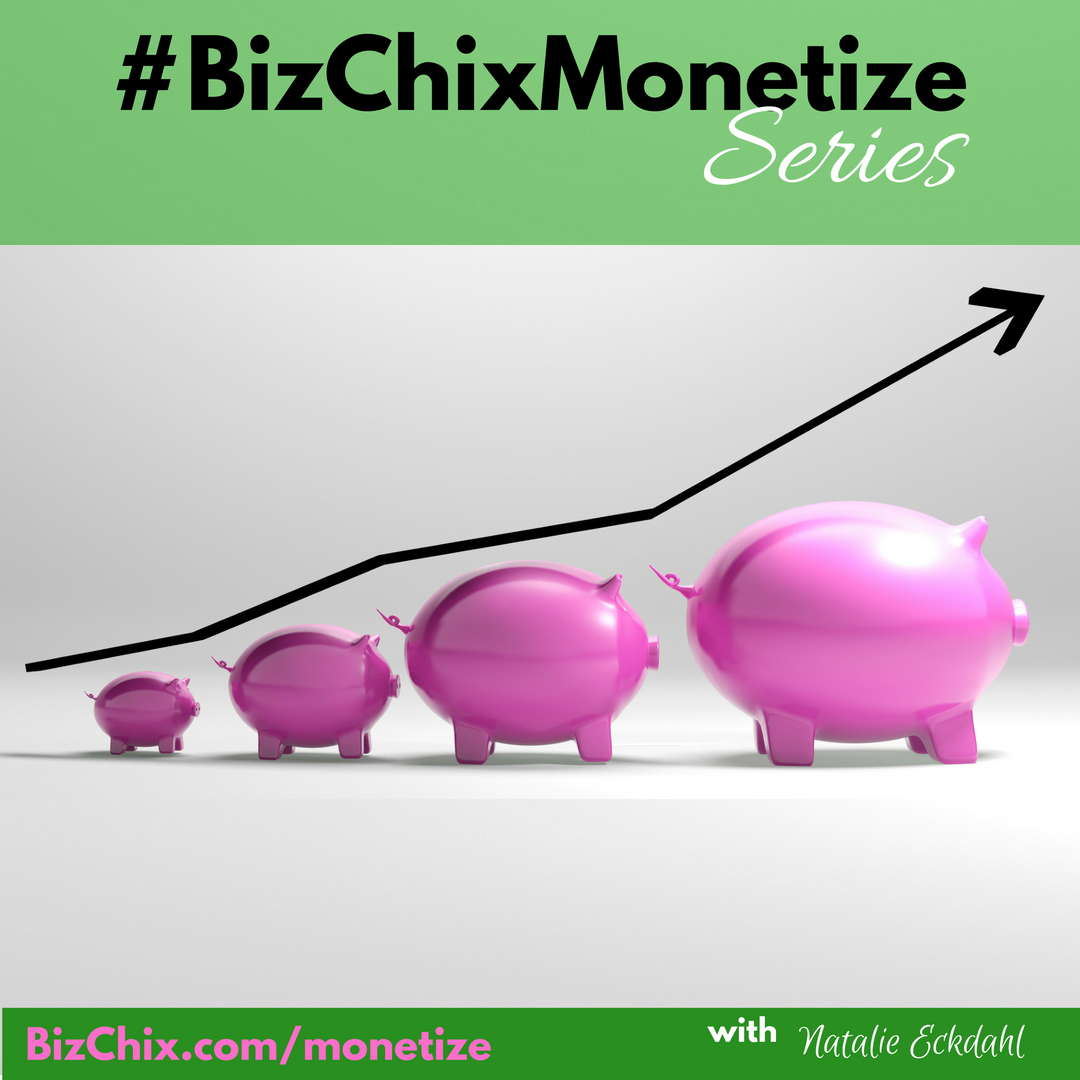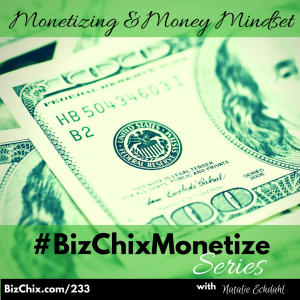 Welcome to the first episode of the new series #BizChixMonetize. Yes, it is the series name and hashtag all in one. (Do you like what I did there?)
We are going to spend the next 10+ episodes talking about all the issues related to MONEY, your mindset around money, getting paid, setting prices, raising rates, finding more customers and how to organize your business finances. I am creating this series in response to the emails you send me, the work I do with clients 1/1, and the conversations I see in our Private Facebook group.
---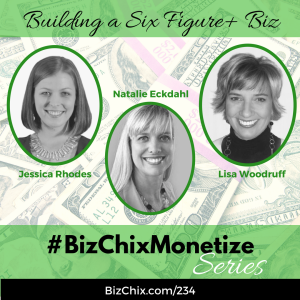 I was thrilled to be asked speak at #FinCon16 in sunny San Diego, CA, but the icing on the cake was that several people I adore were also attending and I was offered the opportunity to use a recording booth and create a podcast at the conference.  It was a no brainer to invite Jessica Rhodes and Lisa Woodruff on air as both are business women, podcasters and mothers whom I admire.
---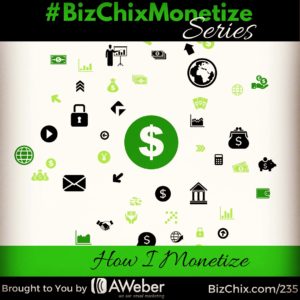 Host Natalie Eckdahl discusses how she monetizes her podcast and business! It is not how she expected things to evolve when she launched the show in January 2014.
---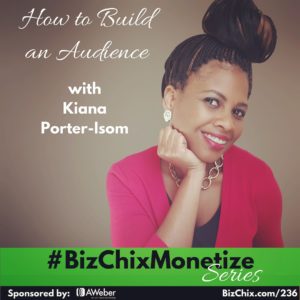 Host Natalie Eckdahl coaches Kiana Porter-Isom from Edupreneur Today about monetizing her "side" business! They strategize on how Kiana can create recurring revenue through membership sites. Also, Kiana shares how she has grown her audience through Instagram and what her business is like one year in. 
---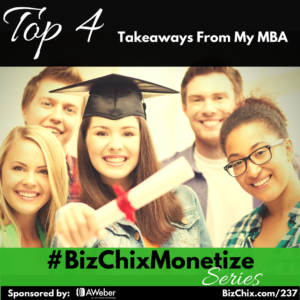 Top 4 Takeaways From My MBA Host Natalie Eckdahl shares four major takeaways from her MBA education and how they impacted her entrepreneurial journey. This episode is sponsored by AWeber. Thank you for supporting women entrepreneurs!
---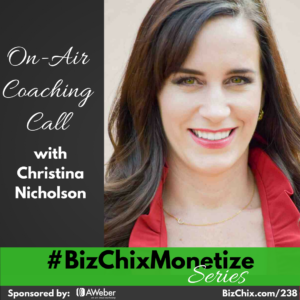 Hear Natalie coach Christina Nicholson of Media Maven on how to prioritize her local media relations work and the opportunities to create "passive" income online. Natalie also provides training on planning for 12 weeks at a time in your business.
---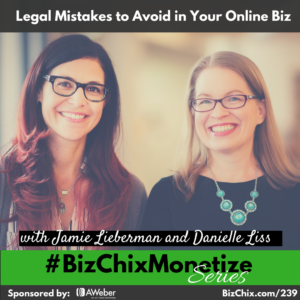 Hear Natalie chat with Jamie and Danielle from Hashtag Legal on four major legal mistakes to avoid in an online business. These impact anyone who has a website, collects emails, sells products and/or is an Amazon Affiliate. 
---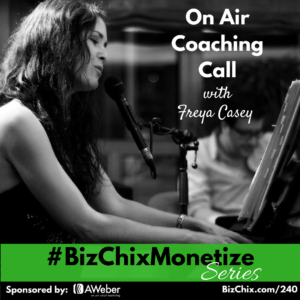 Hear Natalie coach with Freya Casey, a vocal coach and professional singer in Germany with an international You Tube following. Natalie helps Freya determine how she can pivot her business from serving only local clients to working with clients globally.. Natalie helps Freya decide on her global avatar which ultimately plays on her experience…
---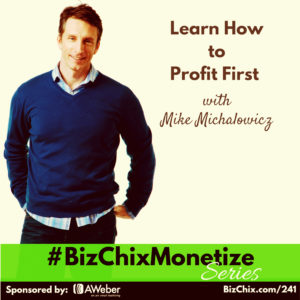 Are you earning profit in your business? Are you paying yourself a salary? Natalie interviews Mike Michalowicz, author of Profit First, Toilet Paper Entrepreneur, The Pumpkin Plan, and Surge. Mike shares how he's made millions and lost millions.
---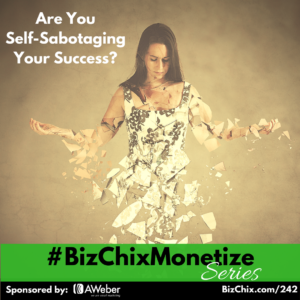 Are you Self-Sabotaging Your Success? #moneymindset Do you ever find that you are derailing your own success? Being an entrepreneur takes an extraordinary amount of courage…
---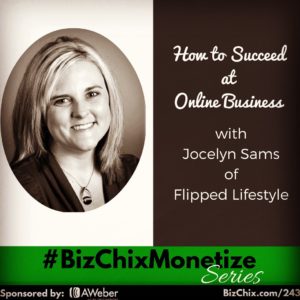 Natalie chats with Jocelyn Sams, from Flipped Lifestyle Podcast, on how she launched her online business, to create a successful transition from leaving her day job to becoming an online entrepreneur. Jocelyn and her husband, Shane, built a successful online business together to be able to quit their teaching jobs. Hear this fantastic story…
---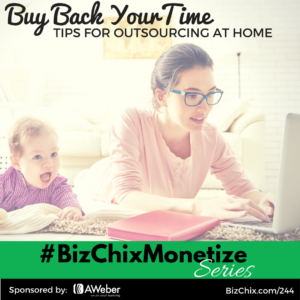 Buy Back Your Time – Tips for Outsourcing at Home
There is a ton of information on outsourcing in your business but very little on how to outsource in the home as a woman entrepreneur. 
And let's face it, women take on a lot of responsibility in the home even if we are in a relationship with a really supportive partner. 
Some of that is our own doing because we like things done a certain way and other parts of it are gender roles that we are expected to take on.
In this episode we talk about the first steps to outsourcing at home, how to budget for it, how to creatively outsource if you don't have money to invest and how to overcome objections you or others in your life may have to outsourcing.
---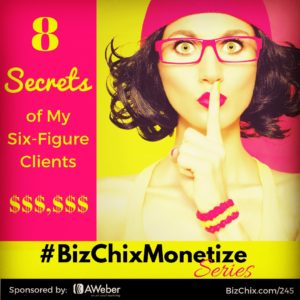 I noticed a trend among clients whose revenue exceeds Six Figures. There are certain characteristics, business practices and tactics that make them stand out. Here are eight of the secrets to their success. If I could encourage every entrepreneur to make just one change in their business that would have a HUGE impact, that would be to implement secret #1 – Consistency. My six figure clients set big goals every week and hit them week after week after week.
---

Two interviews in one episode! 
Perfect to listen to while you pack gifts or travel and family friendly. 
Natalie interviews Mompreneur Show host Vicky Lashenko, then rebroadcasts Vicky's live interview of Natalie.
Vicky shares what it was like to immigrate from the Ukraine as an 8 year old, and how the bravery and grit she developed from that experience played a roll in launching her business and her focus on live video shows.
Natalie shares her rough beginning as a podcaster, how she found her footing and her advice for women just getting started as entrepreneurs.
---

Did you know that 2017 is The Year of Profit? In this episode I challenge you to create a profit goal for your business. There is so much focus on having a big revenue or sales number that often what gets lost is the actual money you transfer from your business to your home.
Many of us get caught up in investing in our business and forget to make a plan to have our business financially provide for us.
Not this year!
It's time to take a look at not only how you can increase revenue, but also how you can decrease expenses.
Listen to get encouraged and inspired!
---
Now go make some money!
I'd love to work with you ! Click HERE for more info–> BizChix.com/workwithme
Thank you so much for listening. If you enjoyed the episode, please SUBSCRIBE in iTunes and leave a rating and or review.  This helps the show rank higher in iTunes search results!