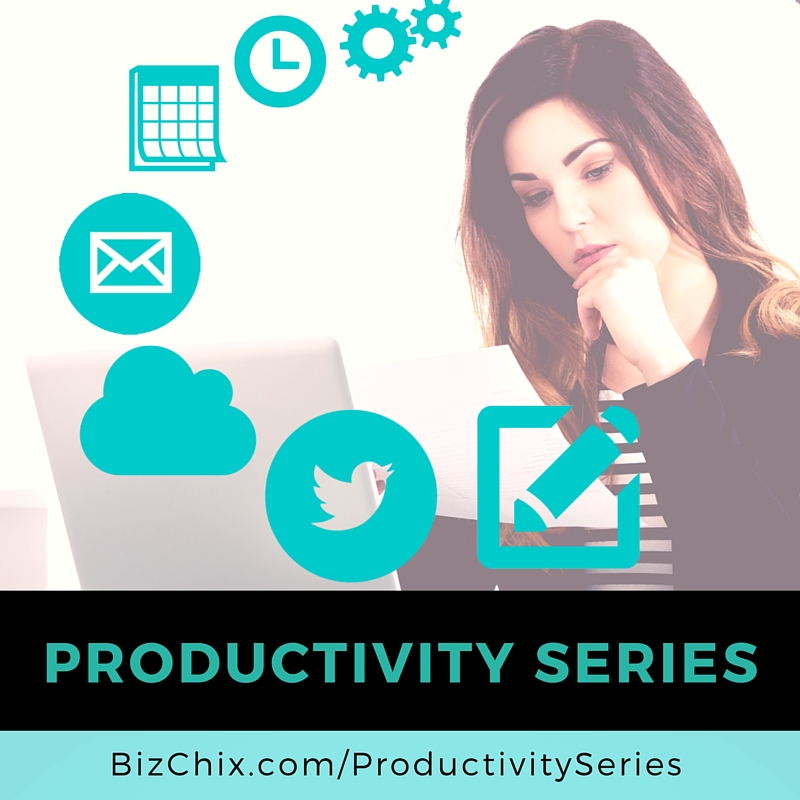 Join the BizChix Community (free)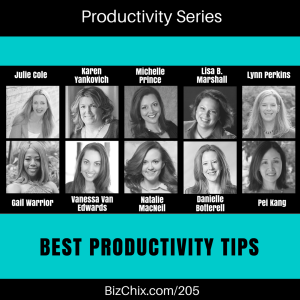 I have such a fantastic series planned which includes a few solo episodes from me as well as some brand new interviews with productivity experts in different facets of our lives.
We are going to talk about how to be productive with our inbox, social media, style, working from home, relationships, networking, systems and more.
To kick us off, I pulled the ten best productivity tipsever shared on The Biz Chix Podcast.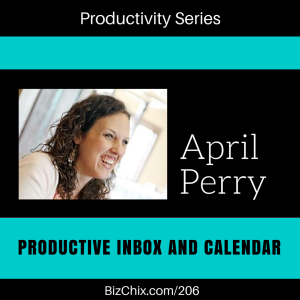 April Perry is the wife to her best friend Eric and mother of four children who runsPowerofmoms.com–a gathering place of more than 50,000 deliberate mothers and LearnDoBecome.com, a brand new site she and her husband created to help individuals and families architect a life of excellence. She loves writing, podcasting, and creating programs for each of her platforms, but her favorite time of day is when the whole family gathers for an afternoon smoothie and then has quiet time–when April can nap.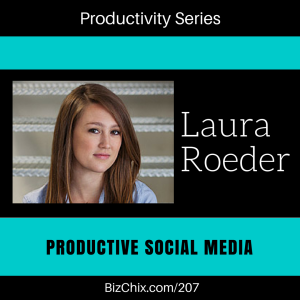 Laura Roeder is the founder of Edgar, a new social media automation tool designed to prevent updates from going to waste. Since 2009, she's been teaching entrepreneurs how to harness the power of social media marketing and create their own fame at LKR Social Media.
Laura was named one of the top 100 entrepreneurs under 35 in 2011, 2013 and 2014 and spoke at the White House about the value of entrepreneurship.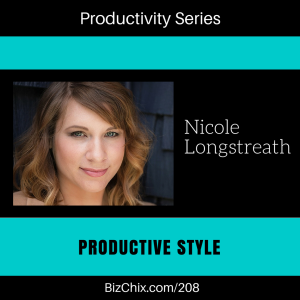 Nicole Longstreath helps ambitious women build personalized style, invest wisely in their wardrobes, and feel supremely confident. Shortly before she was was downsized a second time from her industry of interior design, she embarked on an experiment to finally conquer something in her life that had always eluded her – having highly personalized, yet effortless personal style. That was in 2010.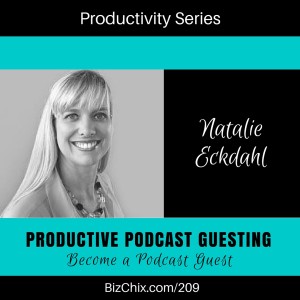 Happy Birthday BizChix!
We're celebrating 2 years of the BizChix podcast by sharing my top tips for getting booked on a podcast! You will learn How-Tos: finding your target audience, pre-interview preps and post-interview preps, increasing your exposure and more!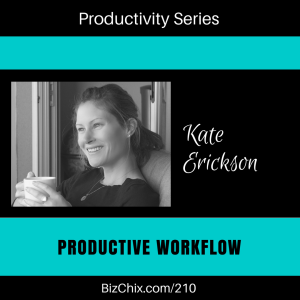 Kate Erickson is a creator, engager and implementer over at EOFire, a 7-day a week podcast that interviews today's most inspiring and successful entrepreneurs. She is also the host of Kate's Take: The EOFire Audio Blog and author of The Fire Path: A Beginner's Guide to Growing Your Online Business. Kate is passionate about helping entrepreneurs create freedom in their business and life through developing systems and processes that can help their business scale and grow.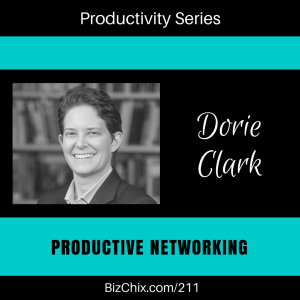 Dorie Clark is an Adjunct Professor of Business Administration at Duke University's Fuqua School of Business and the author of Reinventing You and Stand Out, which was named the #1 Leadership Book of 2015 by Inc. magazine. A former presidential campaign spokeswoman, she is a frequent contributor to the Harvard Business Review, TIME, and Entrepreneur. Clark is a marketing strategy consultant and speaker for clients including Google, Microsoft, Yale University, Fidelity, and the World Bank.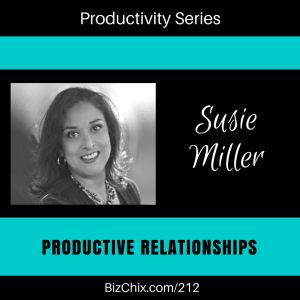 Susie is known internationally as The Better Relationship Coach,™ and is an Author, Speakerand Coach.  She equips high potential entrepreneurs and executives to reduce stress, improve communication, and not bankrupt their relationships in pursuit of profits – so they can Maximize their Success! She has been featured in major news outlets including Forbes, Fox New, Entrepreneur, and is the bestselling author of Listen, Learn, Love: How to Dramatically Improve Your Relationships in 30 Days or Less!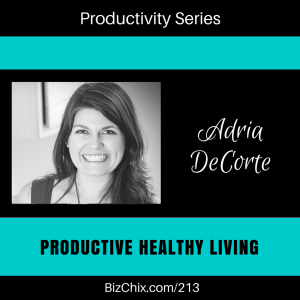 Adria DeCorte is a Healthy Living Strategist who helps high performing, driven female entrepreneurs and executives feed their hustle and practice the self-care that creates a foundation for lasting success. Adria has over 13 years experience including a M.S. in Environmental Science with a focus on botany which gives her a unique understanding of food and nourishment. She is a TEDx speaker and host of the Feed Your Hustle Podcast, and her expert advice has been featured on the Huffington Post, YFS Magazine, and the Fox Morning News Las Vegas.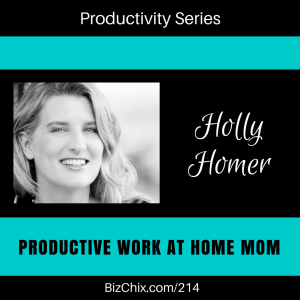 Two seasoned entrepreneurs and moms share their best practices for juggling motherhood and entrepreneurship. Holly Homer, mom of 3 boys, and the owner of KidsActivitiesBlog.com and Business2Blogger.com shares the creative ways she organizes her home and her life around her strengths. BizChix host Natalie Eckdahl also shares how she manages 3 kids and running an online business from home.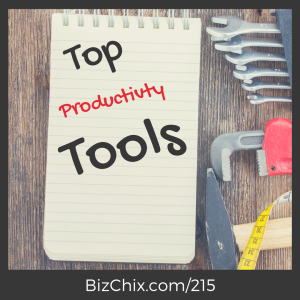 I'm closing out the Productivity Series by sharing my top 8 productivity tools and top 4 productivity books. A few may surprise you! I like to listen to books in 1.25 or 1.5 speed. The four books featured here have impacted my productivity and all are books I have read multiple times (except for one which I listened to for the first time this year).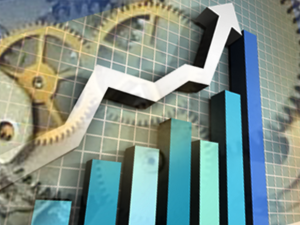 More productivity episodes are compiled in this page. Listen to Ann Gomez, Laura Vanderkam, Susan Weinschenk, Julie Gray, Michelle Prince, Joanne Miller and Roseanne Cook share different aspects of productivity and productive tools.
Join the BizChix Community (free)
Thank you so much for listening.  If you enjoyed the episode, please consider subscribing in iTunes and leaving a rating and or review.  This helps us continue to be featured in New & Noteworthy so that more people can find us.
Help Support the Biz Chix Podcast and Community via: