TOP 10 MOST DOWNLOADED BIZ CHIX PODCAST EPISODES
This is a great place to start if you are new to the podcast or just want to make sure you didn't miss any of these super popular episodes.
Are you part of the Private Facebook Group I host for female entrepreneurs?
The group is very supportive, encouraging and full of resources.
Subscribe to the podcast in
 iTunes
 so you never miss an episode!
Enjoy these fantastic episodes.
Your Biz BFF,
Natalie
Join the BizChix Community (free)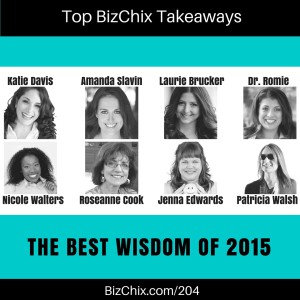 One Podcast. Eight Guests. 2015 Capstone Episode.
While I learn something from EVERY SINGLE guest, some of the wisdom hits me deeper and I'm sharing 8 huge takeaways from those interviews today. These are guests that caused me to think differently, behave differently or consider adding a new layer to my business.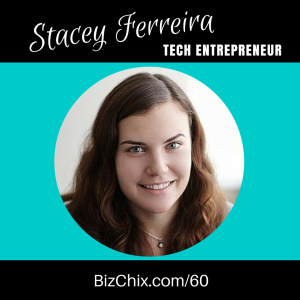 Stacey is an established tech entrepreneur, best known for co-founding MySocialCloud.com, an online password manager whose investors include Sir Richard Branson, Jerry Murdock, and Alex Welch. In 2013, she and her brother (and co-founder) sold their startup to Reputation.com, making Stacey one of the youngest (if not the youngest) female tech entrepreneur to ever make a successful exit of this nature. Now, she is working on building her next business, AdMoar.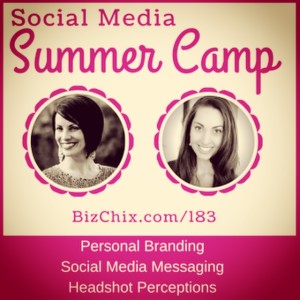 What is your personal brand online?
Do you have a mission statement?
How do you change your social media messaging across platforms?
What does your headshot say about you?
Former Biz Chix Podcast guests Melinda Yeaman (#112) and Vanessa Van Edwards (#101)answer these questions and more!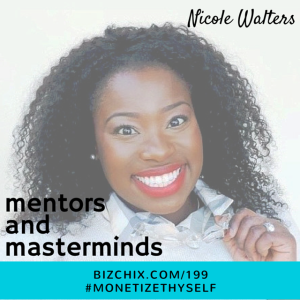 Nicole Walters is a Baltimore, MD transplant and Washington, D.C. native. She moved to the Baltimore area, while attending The Johns Hopkins University as a Political Science major- and soon after entered the corporate world of Business Development and Marketing.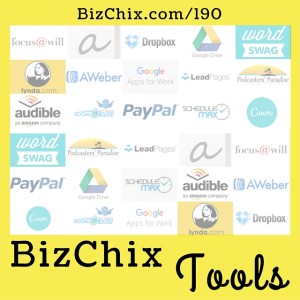 I get asked all the time by listeners, my coaching clients and my mastermind members what tools and resources I use to run BizChix.com. Here I open my back office so you can see what makes this ship sail! Included is a link to everything I love. Please note that some include affiliate links from which I may earn a small commission. This is not a factor in what I recommend to you, because my integrity is always more important than my income.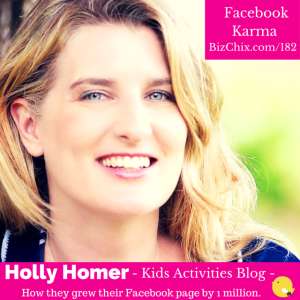 Holly Homer has been a blogger since 2007.  It started as a substitution for her expensive scrapbooking habit and turned into a full time job that she adores. She runs Kids Activities Blog with the help of 3 other full-time partners and they have a group of amazing contributors.  Last year her Quirky Momma FB page grew by 1 million fans organically.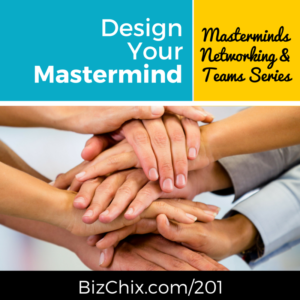 So many women in The Biz Chix Community want to be in a mastermind, but don't know where to start. This episode goes through not only the steps to take but also the thought process and the strategies involved in creating a successful group from the beginning.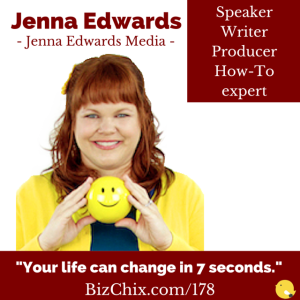 Jenna Edwards is a Speaker, Writer, Producer andHow-To expert who loves to do and share what she has learned.
Hear how a bit part on Buffy the Vampire Slayer and a horrific accident both lasting just seven seconds changed the course of Jenna's life.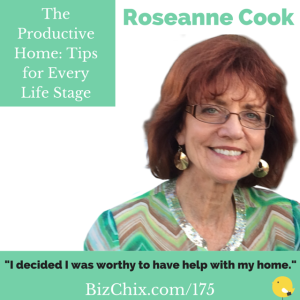 Roseanne Cook is a teacher, wife, mother, best friend, grandma, sister and admired home maker.
She is also host Natalie Eckdahl's Mom and Mimi to Natalie's three kids.
Join this special conversation as Roseanne shares how she created efficiency in her home from the time she was in college through her current empty nest stage and everything in between.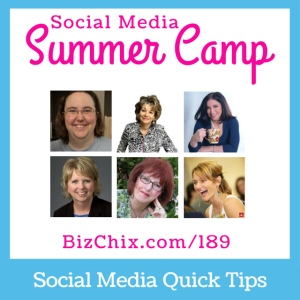 Social Media Quick Tips:
how to get started in social media with when you're just starting your business
how to do social media effectively and successfully
tip on repurposing contents, including audio and video
tip on repurposing graphic images
Join the BizChix Community (free)