What is a Podcast?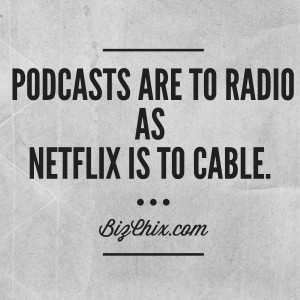 Last January, I announced to my family and friends that I was starting a podcast.  I was greeted with a lot of excitement and encouragement, especially from my husband and parents (who are always supportive of me), but in the end my Mom couldn't quite wrap her mind around what a podcast is.  The truth is, I really didn't understand them either until I started listening to podcasts.
Podcasts are similar in some ways to talk radio, but instead of listening at a certain time on a certain station, you can listen to the exact show you want to listen to whenever you want to hear it. You can pause the show, fast forward the show and rewind the show.  You can even listen to the show again.  There are interview only shows, teaching shows, entertaining shows and even shows hosted by kids.
Is there a relationship between Podcasts and the Radio?
My adorable Mom kept asking me lots of questions… Does this radio host have a podcast?  Does that radio host have a podcast?  Will you be on the radio?  The answer is, while some radio hosts re-purpose or replay their radio content and use it for a podcast (Dave Ramsey is a shining example), not all do.  I am assuming some podcast shows will catch the attention of some bright radio producer who will start broadcasting them, however, I do not personally know of any (leave a comment if you do).
Podcasts are to Radio as Netflix is to Cable.  It is on demand content and it is the future.  (Click to Tweet.)
How can you listen to Podcasts?
Podcasts can be hosted on a website where anyone visiting the site can play it and listen from their computer, tablet or smartphone.  They also can be distributed via an RSS feed which is then listed in podcast directories.  The two biggest directories right now are iTunes and Stitcher Radio.  Most people download an app on their smartphone to listen.  Itunes and Stitcher have apps, but there are others available for both apple, android and windows devices (just search for podcast in your app store).
It is exciting that new podcasts are being released every day. There are podcasts on Business, Technology, Yoga, Autism, Ballet, Education, Pets, Public Speaking, Spirituality, Parenting and more. Just search for the topic you are interested in and you are likely to find it.
Stitcher is making it easier to listen in cars by integrating with the vehicles entertainment system and is currently featured in GM  Ford, BMW, MINI, Mercedes and Mazda models and in 2014 Jaguar and Land Rover vehicles.
Apple's Carplay which is currently featured in certain 2014 Ferrari, Honda, Hyundai, Mercedes-Benz and Volvo vehicles allows you to integrate apps (like the Podcast app) into your vehicle's onboard entertainment system. Other manufacturers which plan to release CarPlay enabled vehicles in the future are: BMW, Chevrolet, Ford, Kia, Land Rover, Mitsubishi, Nissan, Opel, Peugeot Citroen, Subaru, Suzuki and Toyota.  Also, Alpine and Pioneer are offer after market upgrades to current systems that support CarPlay.
This is great news for Podcasters and bad news for radio stations.
Don't Feel Bad Mom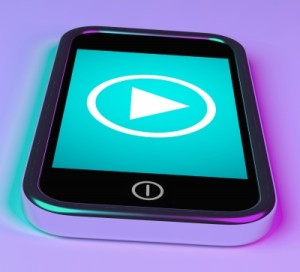 I don't want my Mom to feel bad for initially not understanding what a podcast is. Digital Trends reported (Dec 2013) that only 25% of Internet users listen to podcasts. At the same time, those that are listening still represent a lot of people worldwide. Apple announced in July 2013 that iTunes had their 1Billionth download.  Let's look at all those zeroes – 1,000,000,000. That is a lot of people listening to a lot of podcasts.
The marketer in me can't help but notice the fact that only 25% of people are currently listening to podcasts. That represents a huge growth potential for podcasts and podcasters. In January, I attended New Media Expo, a conference that brings together those in the blogging, podcasting and web TV industries. A number of speakers declared 2014 to be the year of the niche podcast.  That means that we are going to see more and more podcasts focusing on very specific subjects. There is going to be something for everyone!
Great News for Consumers
What I love about podcasts is that I can listen to the content I want, when I want it and at my own pace. I do not have to listen to sports breaks or news breaks or traffic breaks. A few podcasters are monetizing their podcasts by offering sponsors time on their shows, but these are kept very brief from 15 seconds to a minute in length.
What I love about podcasts is that I can listen to the content I want, when I want it and at my own pace. (Click to Tweet.)
Mom Gets it Now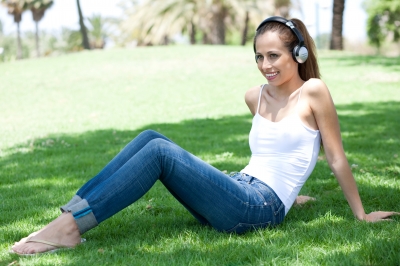 The only way I could get my Mom to fully understand podcasting, was to download a few podcasts for her. I grabbed her iPhone, powered up the Podcast App (free from iTunes) and downloaded a few of my favorites shows and a few others I thought she might enjoy.
I showed her that she can just download a single podcast episode she was interested in or subscribe to a podcast to automatically get the latest podcast from that host downloaded as soon as they were released.  Different shows have different release schedules chosen by the host and can range from once a month (or even less) to daily.
I know that whether or not she ends up getting addicted to podcasts like me, there is one podcast she is not going to miss…Mine!
What are your favorite Podcasts?