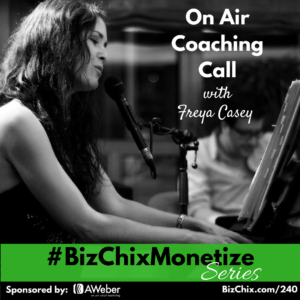 Hear Natalie coach with Freya Casey, a vocal coach and professional singer in Germany with an international You Tube following. Natalie helps Freya determine how she can pivot her business from serving only local clients to working with clients globally.. Natalie helps Freya decide on her global avatar which ultimately plays on her experience building her own professional singing career.
This episode is sponsored by AWeber.  Thank you for supporting women entrepreneurs! Find out more and get an all access, 60 Day Free Trial at BizChix.com/Aweber!

How to Pivot Your Business with Freya Casey
Key Takeaways:
[7:03] Freya asks how she can transition her local business to a successful online business and work with the global audience she has built through her YouTube channel and podcast.
[10:43] Freya talks about her current online efforts to gain clients.
[12:05] Freya discusses her social media presence on YouTube and her podcast.
[17:00] Natalie and Freya dig into a new business avatar.
[25:45] Natalie suggests different services Freya can start offering and adjusting her online presence.
[39:00] Freya asks about how she can shift her business.
[44:16] Where you can find Freya online.
[45:39] Natalie's final thoughts.
[48:47] Special message from Tahoe (Natalie's 4 year old son).
Connect with Freya Casey
Mentioned in this Episode:
Hear the entire #BizChixMonetize series.
This episode first appeared on BizChix.com.