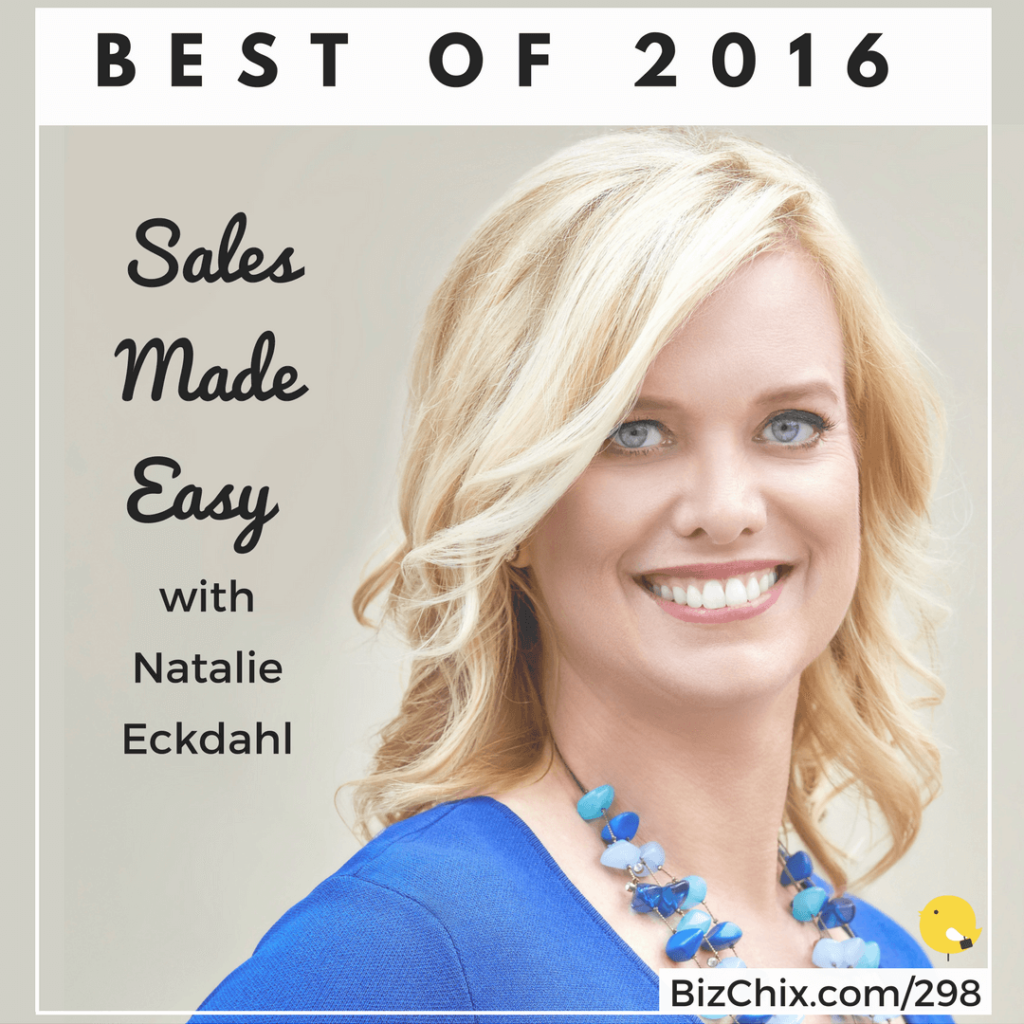 Do you hate sales and selling? Do you wish it was easier to get people to work with you? I have just the tips, strategies, and advice for you, in this throwback episode from 2016.
How to deal with sales is a question that comes up often in my strategy sessions and masterminds, but the truth is if you want to be an entrepreneur, you're going to have to sell. The good thing is that it doesn't have to be difficult! I share four topics that will help make sales easier, from start to close. I also have some additional insights I've gathered since 2016, as well as some tools I'm using now to help you get into a sales mindset as we move into 2108!
Key Takeaways:
One of the biggest struggles Natalie's clients have in business is selling and sales — this episode is a throwback to an episode from 2016.

Natalie shares a funny/embarrassing story involving herself, her team, and gifts they sent to their clients.
Let's talk sales! Natalie is actually in a sales process right now in her business — positions are still available for masterminds starting in January!
Natalie shares an update on her digital detox — no social media or emails for a week! What went right, and what went wrong?
Sales is not a topic that is often talked about but is crucial for small businesses and entrepreneurs.
What is your mindset around sales? Natalie virtually coaches you through discovering your sales mindset and shares her own personal positive and negative sales experiences.
Your personal network is the first place to start when it comes to promoting your service or product. How can you leverage your personal network to create brand awareness?
If you want to grow your business, you're going to have to personally sell your product or service. Natalie has some tips to get you started on selling personally.
Sales is not just about selling — success lies in the follow-up! How can you design a good system for following up with leads?
Natalie has some final tips to make sales easier for yourself.
Natalie challenges you to create a simple sales plan for your business.
Natalie shares how her sales process and system has changed since 2016, as well as some tools she uses to help her in sales.
Natalie wraps up this episode with an update on what her family's up to during the holidays! Tickets for BizChix Live 2018 are going on sale, so be sure to check that out!
Join the BizChix Community and get my FREE Ideal Week & Month Guide:
Mentioned in this Episode:
Previous BizChix Episodes Mentioned: